Elevity Featured on CRN's 2021 Solution Provider 500 List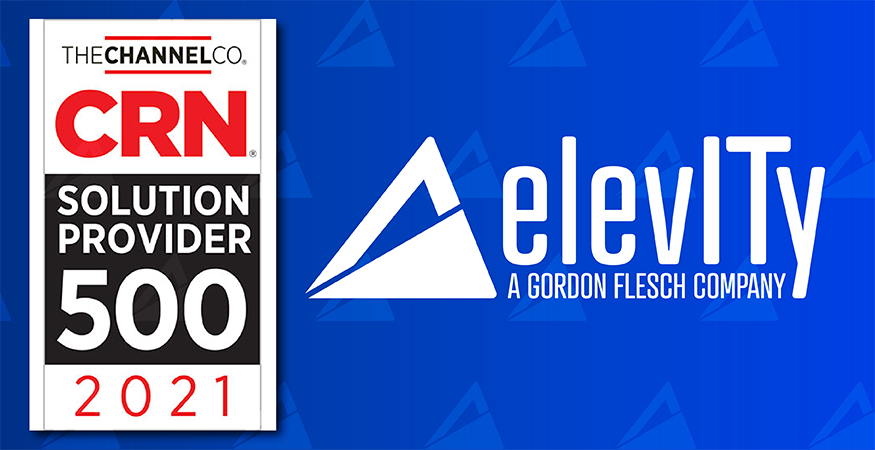 by Gordon Flesch Company, on 06/21/2021
Elevity is once again ranked among the largest and most innovative integrators, service providers and IT consultants in North America by services revenue.
Elevity, a division of the Gordon Flesch Company (GFC) today announced that CRN, a brand of The Channel Company, has named the company to its 2021 Solution Provider 500 list. CRN announces its top 500 solution providers list each year, ranking the leading IT channel partner organizations across North America by revenue.
This year, Elevity ranked number 150 on the CRN list, which includes giants like Accenture and IBM. The companies on the list represents a remarkable combined revenue of over $403 billion, underscoring the immense impact and influence these partners have on the technology industry today.
Elevity, the Gordon Flesch Company's technology management division, offers customers strategic planning and customized support, which made it possible for the company to thrive despite the pandemic and economic downturn. "Being named to the CRN 500 list once again is a huge honor and a validation of our technology management strategy," said Jeff Dotzler, President of Elevity. "We partner with our customers to offer strategic advice and business planning, which has allowed us to help them through these tough times, quickly providing them with the technology products and services they needed."
"CRN's Solution Provider 500 list serves as the industry standard for top-performing technology integrators, strategic service providers, and IT consultants, which makes it a valuable resource for technology vendors looking to partner with today's best-of-breed IT solution providers," said Blaine Raddon, CEO of The Channel Company. "On behalf of The Channel Company, I'd like to congratulate these companies for their incredible contributions to the growth and success of the IT channel."
The complete 2021 Solution Provider 500 list is available online at www.CRN.com/SP500 and a sample from the list will be featured in the June issue of CRN Magazine.
About the Gordon Flesch Company and Elevity
The Gordon Flesch Company is one of the largest family-owned providers of office technology solutions in the nation. Family-owned since 1956, the Gordon Flesch Company employs more than 600 people throughout 31 offices in the Midwest, with their corporate office in Madison, Wisconsin. GFC and Elevity deliver unique business process expertise to solve challenging problems and achieve organizational goals. Today, Elevity serves more than 400+ customers and employ 70 MSP staff in locations across the Midwest. Follow us on Twitter at @elevity_it and @GordonFlesch.
About The Channel Company
The Channel Company enables breakthrough IT channel performance with our dominant media, engaging events, expert consulting and education, and innovative marketing services and platforms. As the channel catalyst, we connect and empower technology suppliers, solution providers, and end users. Backed by more than 30 years of unequalled channel experience, we draw from our deep knowledge to envision innovative new solutions for ever-evolving challenges in the technology marketplace. www.thechannelcompany.com