A Transformation in Virtual Desktop Infrastructure (VDI)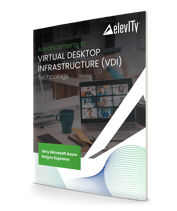 Virtual desktop infrastructure (VDI) has been around for decades, helping remote workers stay connected without having to plug in at the office. But truth be told, the technology was cobbled together over the years. As a result, it had numerous security vulnerabilities and lackluster functionality.
Isn't it time for a better virtual desktop experience?
Microsoft Azure Virtual Desktop (AVD) was built to specifically serve virtual, remote and hybrid workforces. Download our eBook to discover what sets Azure apart, including:
How Azure tackles the top security threats
Features of a fully managed cloud solution
Easy compliance reporting (SOC 2, HIPAA, FISMA, GDPR and more)
Compatibility with nearly any device or operating system
Extensive storage capacity
And much, much more
Fill out the form to get our eBook, Advancements in Virtual Desktop Infrastructure (VDI) Technology, and learn the benefits of implementing a virtual desktop infrastructure from Azure and Elevity.