Traditional IT vs Technology Management
Dare to Compare! Side-by-Side Comparison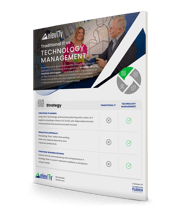 Think there isn't a big difference between a robust outsourced technology management service and a traditional IT department or break-fix model? Think again.
Download our infographic — Traditional IT vs Technology Management — showing a clear-cut, side-by-side comparison of the critical areas of technology: IT strategy, security, solutions and support.
We think you'll be surprised at just how comprehensive and beneficial a technology management solution can be.