Guide to Cloud Computing
The Difference Between On-Premise Vs. The Cloud And Why It Matters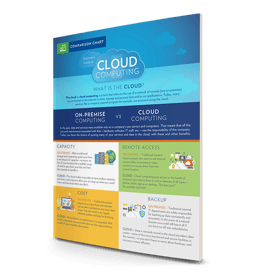 Exactly what is the cloud and why is it better than traditional methods of storing and managing your company's data? Our easy beginner's guide spells it out for you and compares the benefits side by side. In it, you'll discover how the cloud can help your business with:
Increasing Capacity
Reliable Remote Access
Reducing Costs
Secure Backups
...and much more!
Plus, you'll learn about the different types of cloud services to help understand which may be best for you.
Download your free copy now by simply filling out the form. You'll be on your way to a better understanding of how the cloud works, how it can enhance your business practices, and how it can improve your bottom line!