Technology Inventory Checklist
A Free Resource To Document Your Physical And Virtual IT Assets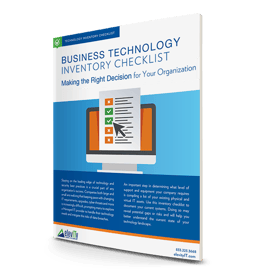 How can you know for sure whether your organization needs to upgrade or replace technology, or if you need to seek the help of a Managed IT provider? It all begins with knowing what your current IT landscape looks like. That can only happen by taking an inventory of all your physical and virtual IT assets.
It sounds like an overwhelming task, but we've developed a tool to make it easy. Our Business Technology Inventory Checklist will help you:
Document computers, laptops, routers and other hardware
List operating systems, accounting packages and other software
Inventory business equipment such as printers, copiers and scanners
Identify various Cloud platforms that are in use
And more!
Plus, there's a bonus questionnaire section that will help you determine next steps. Get your copy of this valuable tool by filling out the form today.