Business Cybersecurity Checklist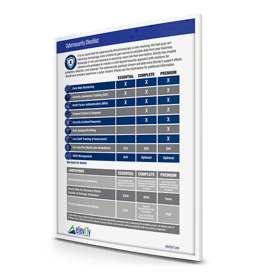 When a cyberattack occurs, most business leaders discover that the method used to gain access to their networks was painfully simple and could have been easily prevented.
Hackers often target businesses that fail to put common best practices in place, many of which are easy fixes and may take only a few minutes.
Use our Business Cybersecurity Checklist to see how you're doing in five major areas:
Email phishing scam clues
Software and hardware loopholes
Password protocols
Printer and copier access points
Disaster recovery and backups
Fill out the form to get your copy and start using the helpful tips right away.