Do Your Part #BeCyberSmart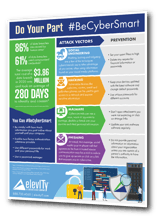 Did you know that the biggest cybersecurity threat to any organization is its staff? In 2021, employees are falling victim to phishing, malware and other attacks at frightening rates. That's why your first line of defense is to educate employees to identify and block cyberattacks.
Download our infographic to see how you can do your part!