Tech Trends for 2021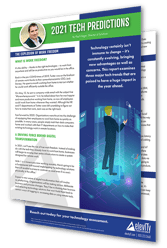 Technology certainly isn't immune to change – it's constantly evolving, bringing new advantages as well as concerns. This report examines three major tech trends that are poised to have a huge impact in the year ahead.
Download our latest article to discover key technology trends to keep on your radar in 2021.