My official job title is Virtual Chief Information Officer, or vCIO. Despite the name, there's nothing virtual about who I am or what I do. I am a real, living, breathing person — not a hologram, chatbot or simulation — and I do real work for a lot of great companies.
For many Managed IT service providers, a vCIO is somewhat of figurehead — a person who carries a title but has very little influence on impacting real change. At Gordon Flesch Company, my job is to serve as a chief information officer for organizations that don't have a full-time CIO on staff. That means I spend a lot of my time in the field, digging around our customers' wiring closets, climbing under desks, and testing their technology infrastructures.
As vCIO, I need to collaborate with and advise our clients' IT departments and perform the same functions as a conventional CIO. Those duties include formulating strategic IT goals, planning the IT budget, analyzing and reworking business processes and facilitating technology changes. It all starts with a comprehensive assessment of an organization's current technology, its limitations, and building a roadmap to a more productive future.
To give you a sense of how this works, here is a vCIO Gear Guide with the tools I use to get to work inside a company's infrastructure. It begins with a network assessment, in which I use software analysis tools and old-fashioned legwork to identify everything on a company's network. Sometimes the tools give me all the information I need, but more often, we find issues and mysteries around every corner. "What exactly is that red wire coming from the attic?"
Check out the image below to see how I use this gear to begin the process of building a technology roadmap for clients, which includes companies spreading over a large region.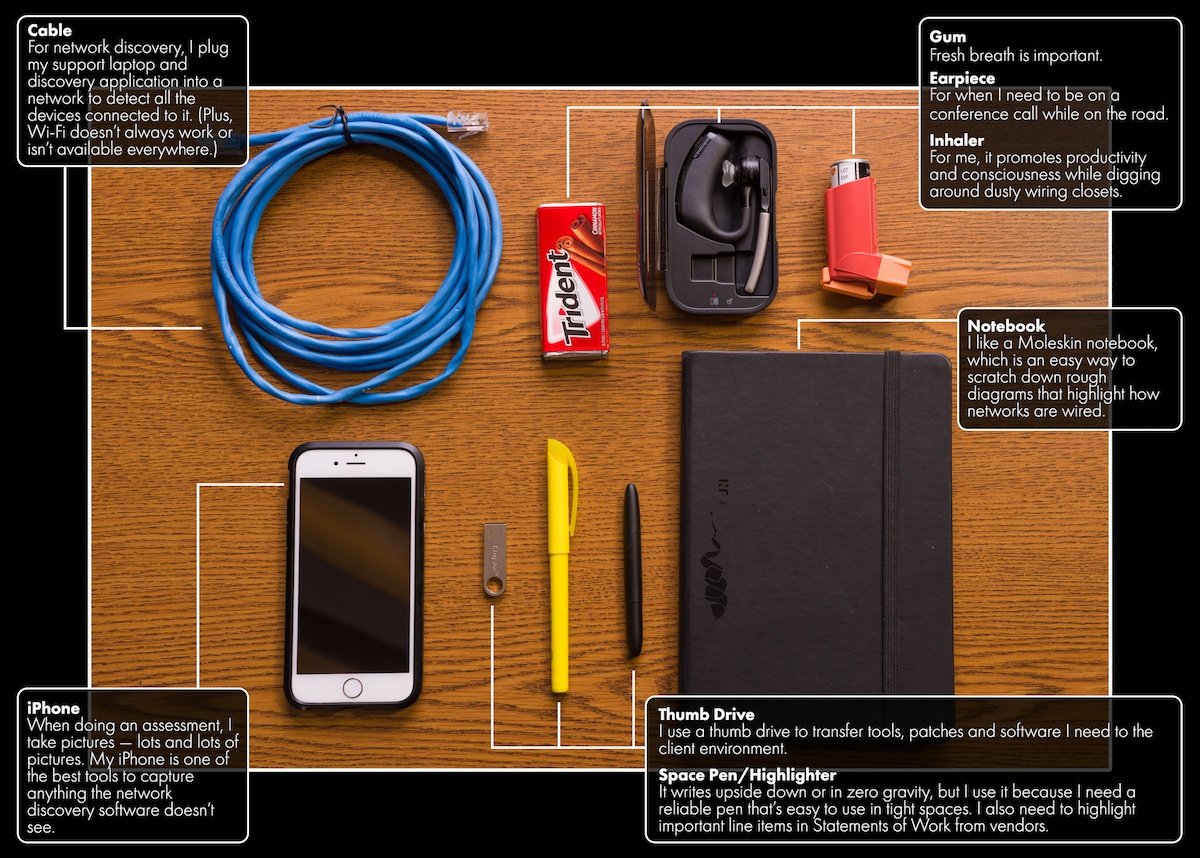 Though some of the items that might show up in a vCIO's toolbox are optional, having the expertise and knowledge of a real IT professional to address your technology needs isn't. Learn more about the benefits of a vCIO by viewing the infographic below, and contact the Gordon Flesch Company to explore whether it's the right time to start working with a vCIO as part of a Managed IT service.