I've blogged in the past about the reasons why businesses should outsource to a Managed IT service. If you're still undecided about choosing a Managed IT provider, please give it a read.
However, if you are ready to outsource some or all your IT services, you're probably wondering how a changeover of that magnitude is supposed to work. I understand your concern. Handing over the keys to your mission-critical business data, technology infrastructure, and customer information is a big deal.
With that in mind, we've come up with a few steps to help implement your Managed IT strategy. We call it the Four P's, which refers to our four-pronged approach to provide comprehensive technology solutions: Planning, Protection, Productivity, and Performance.
1. Planning: A Little Goes a Long Way
When we talk about planning, we're talking about evaluating business needs focusing on people, not products. Our vCIOs and Business Process Analysts meet with companies to evaluate their personalized needs analysis — finding out what people do, how they do it, and building a process that actually helps them get their job done. This can help ensure you're not throwing technology at a problem but solving your business challenges and getting a handle on your current IT asset inventory.
Unfortunately, some IT vendors have a checklist of hardware and software they think every customer will need. But outsourcing IT services is not something you can do by checking off boxes. We've learned that an IT transition involves strategic recommendations, staff training, and routine, ongoing evaluations in order to succeed. When starting a Managed IT handover, it is important for all of the stakeholders to get to know each other, understand everyone's responsibilities, and put achievable targets and goals in place.
2. Protection: Locking Down Your IT Assets
Unfortunately, ensuring systems are safe from hackers and internal threats is one of the most important tasks for an IT Department today. As we've discussed before, our cybersecurity defense strategy is customized to fit the needs of a business.
Defending a network from attackers and criminals takes a multi-layered security approach combining powerful software with a suite of Security Operation Center (SOC) services to deliver both foundational security and highly advanced protections. With a multi-layered approach, even if one layer is penetrated, you have additional lines of defense and backup.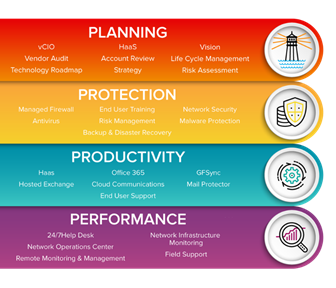 3. Productivity: Time to Get to Work
The technology your team uses to manage day-to-day operations could keep your business competitive, ahead of the curve, and highly productive. However, you may have heard of The Paradox of Workplace Productivity, in which technology doesn't actually seem to be helping all that much (at least in terms of productivity). While most businesses have been experiencing a rapid advancement in technology, they have only seen a 1-2% increase in overall labor productivity.
First, a Managed IT Services provider should deliver technology that doesn't overwhelm, or confuse your staff, but finds ways to streamline and improve your existing workflows. For example, we have standardized our Cloud services to help organizations rethink their entire software purchasing model. We provide Software as a Service (SaaS) subscription services including Laserfiche, IBM Bluemix with Watson, and Microsoft Office 365 which can simplify and streamline your operations.
Second, a Managed Service Provider (MSP) provides its clients with ongoing maintenance, support, and guidance to plan updates and detect problems before they can affect operations. A Managed IT service provider must be able to proactively deliver ongoing service and support so that instead of waiting around for things to break (or crossing your fingers hoping things don't break), they take proactive steps to make sure your infrastructure remains in optimal working condition.
4. Performance: Maintenance and Support
Once you have improved efficiencies and systems to streamline workflows, it's time to put your new IT service into action. This takes a lot of practical blocking and tackling many people might overlook. We believe in providing regular status updates to clients, including upcoming activities and updates to your systems.
In addition, once everything is up and running – your employees love the new technology, productivity is up, and you are already seeing a return on investment – things can still go wrong. When a business relies on technology, you need to have plans in place for reporting and then fixing any problems that might occur as quickly as possible.
When investing in any new technology, it's essential to invest in top quality support. The typical MSP can resolve the majority of common IT issues within hours. Imagine how much longer it would take to resolve your problem if you had to hunt down a break-fix IT company — especially one who knows nothing about your company or your environment. Support needs to be a fundamental part of any strategy to implement new technology.
The bottom line is that there is a world of difference between creating a plan to protect your business' data and putting that plan into motion. Leverage the knowledge of a Managed IT provider that specializes in helping small organizations get enterprise-level results. Reach out to the team at the Gordon Flesch Company today and be sure to check out our infographic below for more insights.