The number of remote workers is on the rise, and the need for those out in the field to access information on demand is growing. In fact, it's estimated that 70% of the global workforce works from home at least once a week. The mobile workforce is clearly here to stay, and the impact on many enterprises is turning out to be a positive one resulting in better communication, collaboration and flexibility.
The benefits of mobility can be helped or hindered by the wrong technology, however. Cloud access to digital files, correspondence, workflows and other work-related functions needs to be easy, intuitive, reliable and, most importantly, secure. The technology also needs to be configured to work across multiple devices, from smartphones and tablets to desktop computers and laptops.
There are many online file sharing softwares and platforms available on the marketplace with varying levels of functionality and price points, and it can be difficult to determine the best document sharing platform. Most sharing sites offer free account options and drag and drop features, but most business will need to invest in a tiered plan. Some also serve as a document storage hub for an entire organization while others focus merely on securely getting a file from one place to another. So, what's the best file sharing site? Depending on your needs, here are some popular options to consider.
Many users are already familiar with Google Drive because they've used the platform's 15 GB of free storage space for backing up personal files. This familiarity can help organizations that choose the platform to minimize the learning curves among employees. Data is automatically synced with all devices linked to the account and changes are saved automatically.
Permissions can be set up for viewing or editing, and others outside the organization can be invited to view, download, and collaborate — no email attachment required. Documents, images, spreadsheets and more can be organized easily, but even if you have trouble finding a file, the integrated search feature that Google is known for will assist.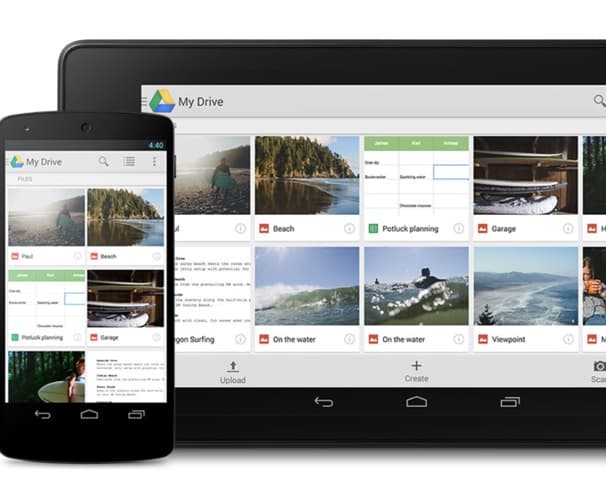 Several well-known brands rely on this platform, including Starbucks, Dell, Aflac, AARP and others. Features include an activity tracker to see who interacts with files, easy uploading and file organization, plus the ability to post messages, assign tasks and collaborate with others. For those concerned with data security, OneHub promises robust permission controls and bank-level data encryption both at rest and in transit. Their 14-day trial and the absence of long-term contracts is appealing to many who want to get a feel for its functionality.
One of the most popular file sharing services is one that many people may already use without knowing it. Microsoft's OneDrive is a file-hosting service operated by Microsoft as part of its suite of online services that can host more than 270 file types. If you use one of Microsoft's services online, OneDrive offers 5GB of storage space free of charge. Admittedly, that's a pittance for individual users, let alone a business. For organizations, OneDrive for Business is a managed Cloud storage that replaces SharePoint Workspace. Your data can be stored and shared either on your own on-premise server or purchased as a Cloud-based subscription from Microsoft.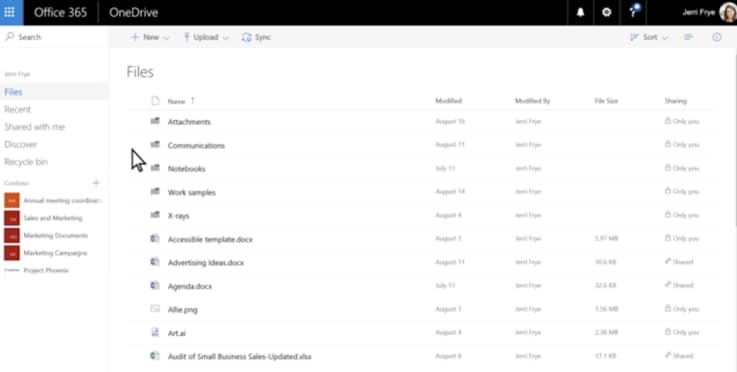 EFileCabinet bills itself as a scalable solution built to be affordable for business. It allows for customized workflow automation and document approvals, sharing and organizing with a real-time dashboard, and it can integrate with business software including Salesforce, Intuit and Office, to name a few. Data governance ensures that your data remains secure, and the templated directories help keep files organized and easily searchable. As with other platforms, mobile functionality is a breeze and user testimonials rave about how much time, money and space they save using the service.
Dropbox is familiar to many because it was one of the first file sharing platforms on the scene. Because of this, it is also among the most popular. Several third-party apps integrate with Dropbox, such as Salesforce, Office 365, Jira, Trello, Gmail, Slack and others. It's ideal for small businesses that want an easy-to-use platform with a straightforward interface and redesigned admin console. They are venturing into enterprise-level features, however. Its groups feature allows users to create and manage member lists, and in-depth audit logs can help companies track how data is shared with individuals inside and outside the company. They have a free 30-day trial to help you assess whether it's right for your business.
MASV is another file-sharing platform that won't necessarily take the place of a server, but if you have massive files to transfer, it's got your back. A unique feature of MASV is it's pay-as-you-go fee structure. You only pay for the data you transfer, with no contracts, no subscriptions and no usage commitments. Sending large files is also their specialty. The platform is designed to support virtually unlimited file sizes and requires no special hardware, application installation or browser plugins. Simply visit their website, enter the recipient's email address, select the files or folders you want to upload and that's it. Files remain secure through in-flight encryption and at rest and can only be accessed via a unique randomized URL.
Box provides file-sharing and other tools to help businesses collaborate. Sound familiar? What helps set them apart from other options, however, are their automated workflows and machine learning integrations to connect and simplify your business processes. Multiple departments can benefit from its advanced features which include digital asset management, contract management, HR onboarding, sales enablement and even custom app development. The platform also boasts advanced security controls, encryption and other measures to keep your data secure and comply with GDPR, HIPAA, PCI and other regulations. Box offers four pricing levels: Starter, Business, Business Plus, and Enterprise.
If you're just looking for a collaboration and file sharing application rather than a major data storage platform, consider Wire. It has added features that some other file sharing platforms lack, such as team chats that can involve external partners, high quality video calls, integrated voice conferencing and other ways of encouraging collaboration and making it highly interactive. Its dashboards and design are attractive and intuitive, and end-to-end encryption helps ensure that any data and file sharing is secure. In fact, security is a major emphasis on their website and they claim to be the "most secure collaboration platform." The free 30-day trial gives enough time to determine how useful it can be for your enterprise.
Many of these platforms have considerable limitations, so it's important to assess your unique business needs prior to making a decision. Many businesses determine they need to leverage the power of an Enterprise Content Management (ECM) system to keep all their data organized and, moreso, to optimize operational efficiencies by automating many of the processes associated with business documentation. Its capabilities go far beyond traditional file storage and sharing programs. Check out the resource below to learn more about ECM.
The Gordon Flesch Company's experts can weigh in on your unique situation to determine whether you should implement the more robust features of an ECM or if one of the above mentioned file share programs is more appropriate. Reach out today for a no-cost, no-obligation consultation.