This is the first installment in a series about the capabilities and benefits of IBM Watson and cognitive analytics.
Most of us became acquainted with IBM's Watson watching it compete on Jeopardy about five years ago.
In that showdown, Watson infamously answered a question in the category "US cities" with "Toronto," one of several amusing gaffes. Nevertheless, the age of cognitive analytics arrived quite publically – and in prime time.
Fast forward and Watson has emerged from the hallowed halls of IBM Senior Fellows and Engineers. IBM Watson commercials, You-Tubes and case studies show us just some of the extraordinary applications now underway. Today's Watson can be used to both create a Marchesa dress for the Met Ball and correctly diagnose a cancer patient.
More importantly, Watson is now an invaluable and accessible tool for businesses of all sizes. Over the next few posts, we'll take a look what Watson is, what it can do, and its benefits. Plus, we'll explore Quick Start/Quick Returns opportunities and how to get started with a Proof of Concept (POC) project.
In this first post, let's look at the most basic question:
What is Watson, Anyway?
I've read dozens of answers, many of them questionable. [Pun intended].
Check out IBM's Watson site for a couple of these "Say What?" responses:
"IBM Watson is a cognitive system enabling a new partnership between people and computers."
"Watson is a technology that understands all forms of data and reasons and learns at scale."
In fact, Watson is simply the collective brand for a number of IBM Cognitive Solution offerings based on an extraordinary set of applications and APIs. So, no: Watson is not a supercomputer, nor is it just a highly advanced search engine, as a number of posts and news articles claim.
Watson's Cognitive Solution combines machine learning that predicts meaning from language and written sources, big data analytical tools, natural language parsers and emerging neural network deep learning techniques. Watson learns from each of these and many other inputs, while gathering additional knowledge from user interactions. It then produces responses to help solve a problem with an indication of the reliability of each result.
I really like how Bob Sylvester, Watson Channel Global Segment Leader, characterizes this new paradigm with a couple of updated acronyms:
When you think cognitive solutions, think URL:
URL = Understand, Reason, Learn
Cognitive systems amplify human cognition.
AI = Augmented Intelligence
And it's available is prebuilt applications, for installation on-site or as a series of APIs for building an application. I've included an attachment that shows the current offerings.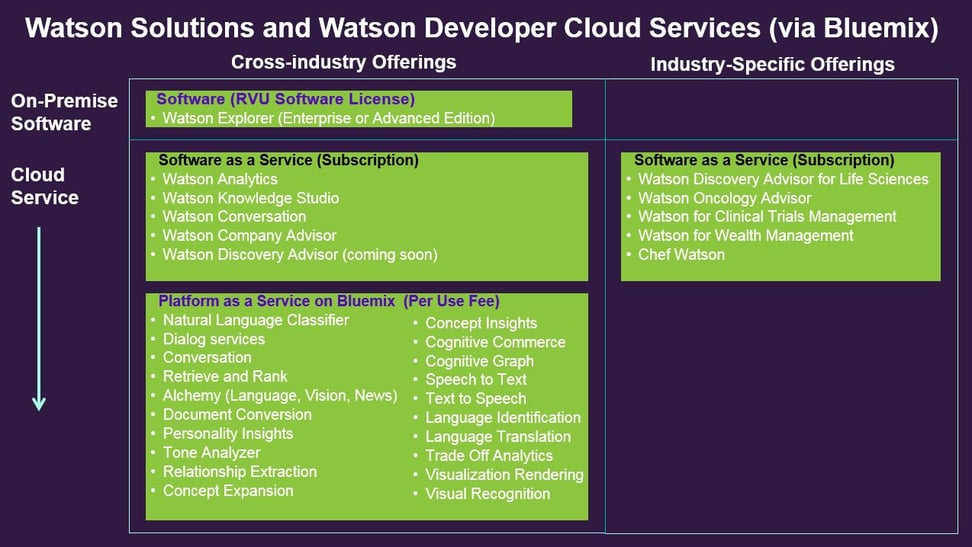 IBM World of Watson Conference
Join us at the upcoming IBM World of Watson conference in Las Vegas, October 24-27, 2016. Check out the curriculum details here and let us know in the comments if you are attending.
Next Time
In Part II, we will take a look at How to Get Started with Watson. If you have specific question to be covered in this series, please enter a comment.
GFConsulting/Gordon Flesch Company is an IBM Watson and Bluemix application developer and Business Partner.
Image Credit